Aromatherapy Massage
Aromatherapy Massage is an effective combination of two ancient forms of healing - the power of nature's aromatic plants and the comforting reassurance of deep, remedial, therapeutic massage.
Aromatherapy uses the organic essences extracted from aromatic plants, called essential oils. They are very concentrated with each oil possessing its own individual therapeutic properties and fragrance. When used in combination with a nourishing carrier oil, such as Sweet Almond, the essential oils are massaged into the skin and the aroma is simultaneously inhaled.
As a result, the whole blend has the ability to penetrate deep into the tissues and 
circulatory system creating a feeling of wellbeing.
When several essential oils are combined in this way, it is referred to as a synergistic blend. In other words, the combined use of the oils produces a greater beneficial effect than just one oil used alone. Every blend of oils is completely bespoke and unique for each individual client's needs at the time of treatment.
Encouraging a state of relaxation and wellbeing.
Aromatherapy Massage has been used for millennia on many conditions.  In today's modern, hectic society, it has been used for everyday aches and pains, stresses and strains, and can be a beneficial addition to maintain and support health and wellbeing.
On a physiological level, caring touch and deep massage helps the flow of blood and lymph around the body. Studies have also shown that touch can help to relieve pain, decrease blood pressure and heart rate, soothe the nervous system and decrease tension, encouraging a state of relaxation and wellbeing. In addition, it has been suggested that massage may actually aid the production of the brain's chemicals that function as natural painkillers, reducing pain and producing a state of mind akin to euphoria.
A more balanced and healthy lifestyle.
So, in conclusion, the proper and effective use of essential oils can help towards promoting a more balanced and healthy lifestyle. There is less likelihood of succumbing to everyday illness and the effects of modern-day stress. A balanced state of mind also promotes vitality and a greater ability to cope with potentially difficult events.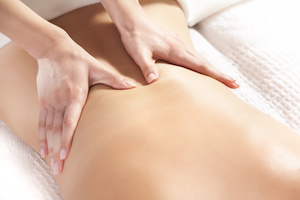 If you would like to see research papers for trials into the efficacy of Aromatherapy,  please click here, where we have listed links to trial papers under the headings of various conditions.
If you would like to know more about the specific benefits of this holistic therapy, then please feel free to contact the Clinic and discuss your health issues in complete confidence.